Rustic Living Room Furniture
When we talk about rustic furniture it implies two things-either the furniture is handcrafted out of authentic materials or the furniture looks handmade. Rustic style is another popular style found in living room furniture. Beautiful woods, polished logs, and twiggy charm has made rustic furniture one of the most popular style in the market today.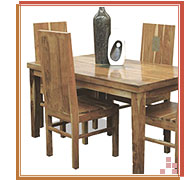 Rustic Style Furniture
Rustic living room furniture might include a sturdy wrought iron sofa or chair, a plain, solid oak coffee table or a handcrafted wrought iron cabinet. A heavy wooden rocker with a country style cushion is a rustic piece of furniture in your living room. Rustic living room furniture gives a bold and hearty looking.
Materials Used for Rustic Style Furniture
Rustic style furniture is not easily available and is normally expensive. Good materials such as hard wood, plush cushioning and wrought iron are always expensive but quality is superior. Hence, faux rustic furniture is reproduced. Often these are made of hard plastic and pressed wood. The piece might look rustic but you should always remember that true rustic furniture is heavy, solid, and rugged. Some prefer to go for simply rustic-looking. It looks just as decorative as authentic rustic furniture but not so sturdy and cannot be expected to last long.
Rustic living room furniture warms a home with its rugged, hand-crafted style and make your living room feel more comfortable and relaxed. Rustic furniture lends a charm and style to your living room.
Buy Rustic Furniture for Living Room
We have a large database of rustic furniture manufacturers, suppliers and wholesalers. If you have any requirement for rustic furniture for living room or for any other room of your home, you can fill up this simple enquiry form and get multiple competitive quotes from wholesale dealers and suppliers of rustic furniture.
Some Tips to Give a Rustic Look to Living Room
Since rustic furniture is extremely textural it is better to add it in small amounts. It is not necessary that the entire room be filled with rustic furniture. A few pieces here and there is enough to give a rustic look.


You can warm up rustic seating pieces with cushions and pillows. These will help in softening the chairs visually and providing comfort.


Try using rustic accent pieces such as tables, mirrors, coat trees or other accessories in living room entryway where interest and charm is especially appreciated.


Smaller spaces in your living room can be theme-decorated in a rustic style around a few items, without making the entire room full of "rustic".