Brass Living Room Furniture
Brass living room furniture is unique and elegant which adds style as well as strength to varied designs of furniture. Brass furniture works in alliance with furnishings such as clocks and lighting to create beautiful interior spaces. Brass furniture for living room usually concentrates on the traditional antique style but in more recent time has expanded to offer some of the more contemporary designs.
This luxury living room furniture is polished and lacquered to give its golden color. At times, it is filled with enamel paint. Brass furniture works in conjunction with furnishings such as clocks and lighting to create comfortable and convenient interior spaces. Brass metal furniture provides a distinctive touch with stunning style and handcrafted artistry and delicate artwork. Usually, the frame is made of brass. Some furniture have wood/metal combination.
Types of Brass Living Room Furniture
Advantage of Brass Furniture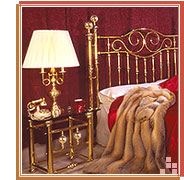 Brass furniture is ergonomic living room furniture helpful in making even the simple decor look attractive. Few benefits of using them are:
Reflects high class
Known for its excellent corrosive resistance
Outstanding look
Brass is easily machined to melt & bent so as to get the desired shape you want
Excellent plating, polishing and finishing features

Disadvantage of Brass Furniture
Brass is prone to a blackish tarnish and hence requires a good deal of maintenance.

How to take care of Brass Furniture?

Clean brass furniture with a dry cloth regularly.
Use solvents and detergents to remove the tarnish.
You can also dampen a soft cloth in hot vinegar, then dip in table salt and rub the brass.
Use mild abrasives to polish the metal.
Use oils to act as a barrier between the metal and air.
Do not use heavy abrasives to clean brass furniture.