Tips to Buy Wood Living Room Furniture
23 December 2010-
Living room is a place where you and your family spend most of the time together as well as a room which is meant to entertain your guests. So, it should be comfortable and at the same time beautifully decorated. Wooden living room furniture is just perfect for both the criteria- wood is a naturally beautiful material for furniture and if bought with proper thought and consideration, wood furniture is the most comfortable for use too. This article will give you some wood living room furniture tips- tips to buy stylish wood living room furniture as well as decorating tips to get a really comfortable and cozy wood living room!
Wood Living Room Furniture - Buying Tips
If you want stylish wood living room furniture, you must go for quality wood types like mahogany, oak, walnut, pine wood furniture etc. Why? Because these quality wood furniture are durable and look good due to the fine grain and their other properties. Here are some tips to buy such quality wood living room furniture.
Tips to Buy & Decorate with Mahogany Wood Furniture
Mahogany wood furniture is durable. However, it is an expensive hardwood furniture but if you want stylish wood living room furniture and can afford, you should go for mahogany wood furniture. The beautiful grain and deep, reddish-brown color of mahogany hardwood endows furniture with a timeless, traditional quality. Wooden chair or a wooden table made with mahogany last a lifetime and is an investment in a real sense.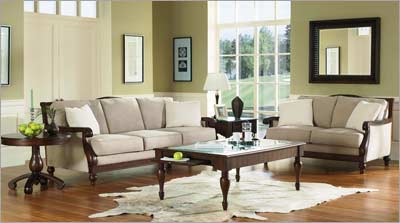 Mahogany Wood Furniture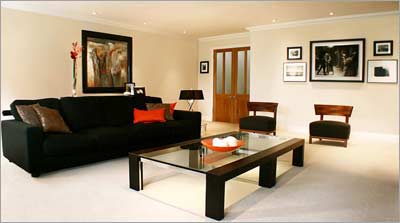 Wood Living Room Furniture
Tips to Buy & Decorate with Oak Wood Furniture
Oak furniture suits a number of
living room furniture styles
. If you take proper care of oak wood living room furniture, they can last a lifetime. Oak wood has two basic varieties - red and white. While the grain in both red and white oak is similar, white oak has longer rays and thus wood furniture made from it is more durable and lighter in color.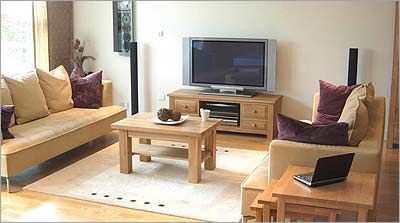 Oak Wood Furniture
Just like mahogany, sometimes oak wood furniture is also made of oak veneers instead of solid oak wood. For example, oak veneer can be glued to pine furniture or particleboard. If in doubt, always ask and then proceed.
When buying oak wood living room furniture, see if it is well constructed or not. Ensure that the furniture pieces are fastened together and there are no gaps between parts. It should be free from indentations and each plane should be level.
To get oak wood living room furniture which is all smooth, see if it is coated with urethane or stain. The grain of oak wood should be noticeable through the wood finish and must have a warm look.
If you cannot spend much but want to have oak wood living room furniture anyways, you can buy used furniture or mix solid oak furniture with veneered furniture. Used oak wood furniture can be refinished or repaired according to the requirement.
Tips to Buy & Decorate with Walnut Wood Furniture
Walnut is an excellent wood type for
traditional living room furniture
. This hardwood furniture is durable and can also maintain a beautiful finish for years. English and black walnut wood are the most popular for making wood furniture. Walnut is a strong, hard and durable wood which carves and holds its shape well and therefore it is an excellent choice for ornate furniture requiring intricate woodworking- like the wood living room furniture pieces such as
living room cabinets
.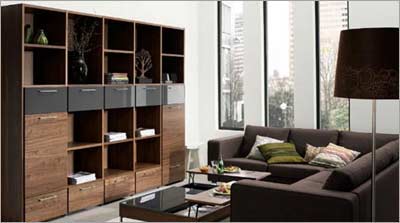 Walnut Veneer Wood Furniture
When buying walnut wood living room furniture, distinguish between the solid walnut furniture and walnut veneer furniture by asking and taking expert opinion.
If buying solid walnut furniture, you may go to consignment shops and antique stores. Although you'll find such furniture here which may show some wear and tear like nicks or water stains, they will be relatively cheaper than new walnut furniture. These used walnut wood furniture can be refinished.
If buying walnut veneer furniture, be attentive about the construction of such wood furniture. Ensure that veneer does not buckle or separate from the furniture.
Tips to Buy & Decorate with Pine Wood Furniture
All of the above wood living room furniture were expensive wood furniture. If you cannot afford to spend so much of money but still want to have wood furniture for your living room, there are cheaper options too. You can go for pine wood living room furniture then. Pine furniture is less expensive than other wood furniture, especially if you buy it unfinished. You can then paint, stain or cover it with a clear coat of varnish. Pine wood furniture blends well with other woods so you can mix and match furniture pieces. Pine furniture particularly is ideal for English country decor as it is a
rustic living room furniture
.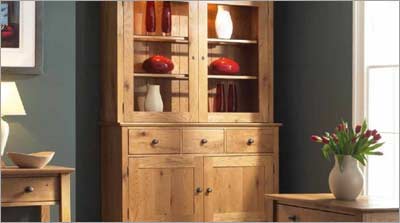 Pine Wood Furniture
When buying pine furniture, you cannot avoid wood showing knots. However, watch out for knots that create a hole in the furniture. Too many knots can weaken the furniture piece.
Look for well crafted pine wood furniture for living room. They are smooth. If buying pieces with drawers, fasteners on the drawer should create a snug fit between the front and rest of the drawer.
Wooden bookcases, armoires, dressers etc. made with pine wood are specially good for any living room.
Whatever wood living room furniture you buy for decorating your living room, make sure to have a unifying theme or motif for your decor in mind. Each piece of wood furniture that you choose for your living room should contribute harmoniously to this pattern. You can always mix and match wood furniture of different styles as long as the colors match and the furniture pieces do not clash in a messy way. Buy such wood furniture for living room that are properly finished, smooth and without sharp edges or splinters. All the parts of your wood living room furniture should fit together solidly.