Lamps and Lamp Shades
Lamps and Lamp Shades are great decorative accents in your living room. Lamps are a great way to enliven and brighten up your space. Lamps can be floor lamps or table lamps. In addition to being attractive, lamps are portable which allow you to rearrange your space at will until you find the right arrangement. Floor lamps are just perfect beside a reclining chair or a couch or for simply brightening up a dark corner in your living room.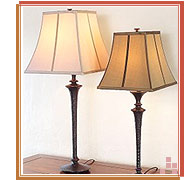 Varieties of Lamps by Finish
Brass
Black
Gold
White
Bronze

Iron
Nickel
Pewter
Copper
Chrome
Varieties of Lamps by Styles

Traditional
Contemporary
Transitional
Casual
Tiffany
Craftsman
Tropical
Rustic
Wrought Iron

Old World
Crystal
Country
Williamsburg
Nautical
Victorian
Art Deco
Asian
Lamp Shades
Lamp shades are available in all different shapes and sizes and come for all different types of lamps such as floor lamps, table lamps, and even ceiling lights. Lamp shades are made of different types of materials such as:
Varieties of Lamp Shades by Styles
Glass
Silk
Leather
Bamboo
There is a marvelous collection of lamp shades made from vintage fabrics, ranging from lovely floral prints to abstract to animal prints to wild 50's barkcloths. Lamp shades and lamps can add vibrant color, re-inforce existing room themes or just provide a fresh and a decorative accent to a room.