Decorative Plant Stands
Flowers and plants make a terrific addition to your room's decor because they add color, fragrance and beauty to the room. If you enjoy decorating your home with plants and flowers, decorative plant stands help you to display the flowers conveniently in almost any room of your home. Plant stands are perfect for showing off your beautiful plants in style.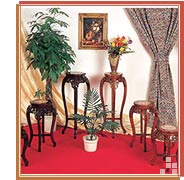 Materials used to make plant stands
Wrought Iron
Aluminum
Steel
Brass
Marble
Wood
Ceramic
Plastic
Plant stands are available in variety of styles, shapes, sizes and finishings which can go well with your living room decor. There are plain, simple plant stands as well as heavily decorated stands. These stands have curled feet, delicately framed shelf or holder, can be a single layer or multi layers, can be wall mounted, can be small table top size and many other options. Available in variety of styles ranging from traditional to Victorian to retro to modern, sleek style, living room decorative plant stands are just apt for you to display your prized pots of violets and foliage and other plants. Plant stands take your plants to new, gorgeous heights with their extremely decorative bases.