Rugs and Carpets
Rugs and carpets can change the look of your entire living room. Whether your whole room is covered by a carpet or just a corner of your room the central portion of your room by a rug, the entire look of the room is enhanced. Carpets and Rugs have always played an indispensable role in giving our homes perfect make overs.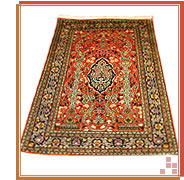 Materials used in making carpets and rugs
Jute Carpets/Rugs
Silk Carpets/Rugs
Coir Carpets/Rugs
Wool Carpets/Rugs
Nylon Carpets/Rugs
Bamboo Carpets/Rugs
Staple/Synthetic Carpets/Rugs
Carpets and Rugs by Design

Kashmir Carpets
Kerman Carpets
Mahal Carpets
Nain Carpets
Nepalese Carpets
Oriental Carpets
Oushak Carpets
Persian Carpets

Sarough Carpets
Tabriz Carpets
Tibetan Carpets
Turkish Carpets
Cotton Printed Rugs
Traditional Rugs
Modern Rugs
Tribal Rugs
Carpets and Rugs by Weave
Hand Knotted Carpets
Hand Tufted Carpets
Hand Woven Carpets
Braided Carpets etc.
Thus, there are wide variety of choices are available. Keeping in mind the color of the room, the furniture and other accessories, carpets and rugs are wonderful accents in your room.