Steel Furniture
Steel living room furniture reflects style and feel you want for your home. Steel is one of the other common material used for making furniture. Steel is a hard metal comprising iron mixed with various small percentages of carbon and other metals. Living room furniture made up of steel looks stylish, attractive and elegant complimenting with the entire living room decor.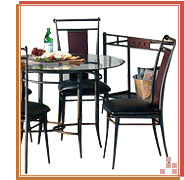 Types of Steel Furniture
Other Steel Furniture
Styles of Steel Furniture
Reflecting ultimate craftsmanship, steel living room furniture is available in varied styles ranging from traditional, antique to modern ones, designs, colors and patterns. Perfect design, polish and finish make them true masterpiece and cherished possessions. You can embellish your decor with this awesome and splendid class steel furniture. Powder coated with either nylon coating, epoxy coating or polyester coating steel furniture can also be painted giving natural look or other colors going with the entire furniture.
Advantages of Steel Furniture
When perfectly designed, steel furniture lends elegance and an aristocratic look to the living room. Some advantages of using steel furniture:
High corrosion resistance
Fire and heat resistance
Hygienic, non-porous, surface
Easy cleaning ability
Aesthetic appearance
Bright and easily maintained surface
Strength-to-weight advantage
Long-term value
How to take care of Steel Furniture?
The best way to clean steel furniture is to apply regular simple and gentle cleaning with a dry cloth.
Some simple everyday household cleaners can be used to clean steel furniture.
To clean and polish steel, moisten a cloth with vinegar and wipe the surface clean.
You can remove streaks or heat stains from steel by rubbing with club soda.
Do not use metallic scourers and coarse abrasives or abrasive powders on steel furniture.