Wrought Iron Furniture
Wrought iron is another material used to make living room furniture. Wrought iron furniture reflect fine blend of traditional designs and contemporary styles and give an appealing look to your living space. The style and beauty of the living room's decor is enhanced through the vast range of iron furniture.
Types of Wrought Iron Furniture
Other Wrought Iron Furniture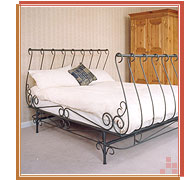 What is Wrought Iron?
Wrought iron is any kind of metal, which is hammered, twisted or bent into shape and used for intricate designs on doorways, fences, and home furniture. This is an easily welded and forged iron that is a mechanical mixture of refined metallic iron with a little percentage of siliceous slag.
Finishing on Wrought Iron
Wrought iron furniture can be finished to achieve the look you desire. You can brush paint, spray paint, or powder-coat them. Powder coating is of various types like epoxy coating, polyester coating, nylon coating etc. Wrought Iron furniture are also electronically coated, thereby creating a permanent seal that locks out rust. Various finishes are available after powder coating like
Antique Straw
Black
White
Burnished Gold
Chestnut Brown
Aged Green
Espresso
Mocha
Roaster Peccan
Sandstone
Styles of Wrought Iron Furniture
Wrought Iron Furniture add just the right flavor to the living room. The excellent craftsmanship on wrought iron furniture - be it the chair or table or sofa or rack have attracted the attention of modern buyers that assimilate the values of rich tradition. Wrought iron furniture for living room can be made of complete wrought iron or with wrought iron/wood combinations. The furniture made out of wrought iron is used so much nowadays because it has a long life and does not require much of maintenance plus have an immense effect over the image that a room displays. The intricately decorated wrought iron furniture can be placed in any surrounding to bring in the old world charm and mysticism associated with it. The living room furniture accented in wrought iron, add elegance and charm to your room. Perfectly crafted wrought iron furnitures with matching upholstery and accessories can be used to overcome a living room's weak points and enhance its stronger aspects. The elegantly styled wrought iron furniture have reached to the modern homes by presenting fresh and sophisticated looks in new varieties and styles.