Wooden Living Room Furniture
Wooden living room furniture
is made from the wood that is the most common material used to make furniture. Wood furniture crafted out of wood makes a living room very warm, welcoming and graceful. Woodcraft glorifies intricate craftsmanship and cultural richness in the form of wooden living room furniture. Whether your furniture choice ranges from simple to traditional styles to modern, contemporary styles, the beautiful collection of wooden furniture adds to the beauty of your room's decor.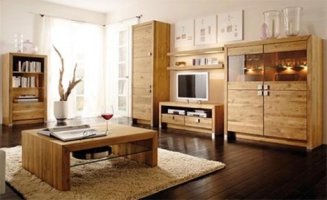 Wooden Living Room Furniture
Types of Wood for Wood Furniture
There are basically two types of woods that are used in making any kind of living room wooden furniture. These are
Varieties of hardwood and softwood are used to make
wooden furniture
. Hardwood refers to the wood from broad-leaved trees. Hardwood is different from softwood, in the sense that softwood comes from conifer trees. On average, hardwood is of higher density and hardness than softwood. However, there is considerable variation in actual wood hardness in both hardwood and softwood, with a large amount of overlap. Hardwoods are generally far more resistant to decay than softwoods when used for exterior work but in general, softwood is easy to work.
| | |
| --- | --- |
| Hardwood | Softwood |
| Alder | Pine |
| Ash | Hemlock |
| Birch | Fir |
| Hackberry | Spruce |
| Maple | Cedar |
| Walnut | Redwood |
| Oak | Cypress |
| Cherry | Douglas-fir |
| Teak | Kaya |
| Sheesham | Redcedar |
| Rosewood | Larch |
| Mahogany etc. | Sugi etc. |
Types of Wood for Stylish Wood Living Room Furniture
Mahogany Wood Furniture
Mahogany wood furniture for living room is made from the wood that is medium-to-hard type tropical wood. South & Central America and Africa are home to the Mahogany wood. This wood is too good for making carved wooden living room furniture. Moreover mahogany wood is resistant towards decay, shrinkage and swelling. Stylish wood living room furniture is made from this wood.
Maple Wood Furniture
Maple is another medium-to-hard type of wood that is found in Eastern America. The pore size and grain placement is even. Wood furniture for living room made from this wood is very smooth in texture. Maple wood furniture can take the finishes of walnut wooden furniture, cherry wood furniture but at the same time less expensive than these. Thus it is a perfect wood for stylish wood living room furniture.
Pine Wood Furniture
Pine wood furniture is made from the softwood pine that differ from place to place in variety. Pine wood is very easy to work upon and has ability to hold humidity better than any other kind of wood.
Beech Wood Furniture
Beech is again medium-to-hard wood found in northeast America and Canada. Beech wood furniture has large medullar rays along with fine and tight grains. Although beech wood furniture polishes well but it is not as durable as other hardwood furnitures.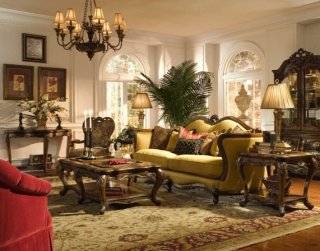 Wood Living Room Furniture
Types of Wood Finishes
Wooden living room furniture are given different finishes which makes the surface of wood smooth, and adds shine and richness to the colors of the furniture. Finishing is essential because bare wood is highly susceptible to moisture changes and this leads to constant expansion and contraction. With wood finishing, not only wood gets an attractive look but also wood becomes less susceptible to the variations in humidity. Various wood finishes are
Paint
Oil
Wax
Polyurethane
Shellac

Lacquer
Lamination
Veneer
Varnish
Water-Based Finishes
The wooden furniture chiseled out of exotic wood are highly durable. The wood living room furniture comprises every type of furniture starting from a chair to a futon to a sofa to a couch to table to cabinets to stool to racks-the list is endless. When perfectly designed, Living room wood furniture lends elegance and an aristocratic look to the room. The perfect polishing and smooth finishing of all types of wooden furniture makes it a true masterpiece and embellish your living room's decor with splendid class. Perfectly crafted wooden furnitures with matching upholstery and accessories can be used to overcome a living room's weak points and enhance its stronger aspects.